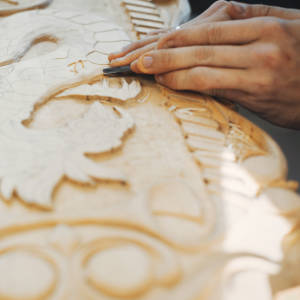 Use the ONLINE ENTRY FORM for entering all details online, with no need to post. Payment can be made online at the end of the form (or printed for cheque / bank transfer later) and a copy of the completed form will be emailed to you for your records.
Use the MANUAL ENTRY FORM for downloading / printing a blank form to complete offline. This form will need to be posted.
Show day last year saw some rain in the afternoon but this did not deter the public and we saw many spectators passing through the craft tent.
It was very rewarding to see such a fine array and variety of entries from enthusiastic members of our local and wider community. I truly appreciate the support given to this section of the show year after year.
The art and craft on display demonstrates the effort, creativity and dedication invested into the range of entries, in some cases long before show day.
This year I do hope we will see more entries from our youngsters across the age ranges in particular from teenagers and I hope parents will point their sons and daughters to the list of entries in the schedule at the beginning of the summer holidays.
SECTION SECRETARY
Ms J M Barrett
Westmoor
Cote Lane
Thurgoland.
S35 7AE
Tel: 07759 695132