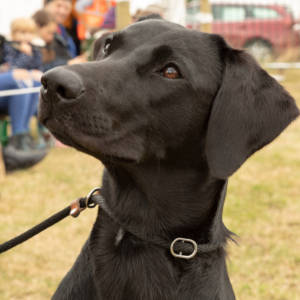 The Dog Show Secretary for 2022 is Joanne Elrod.  Joanne has been involved with showing and working her retrievers for over a decade.  As well as occasionally showing her dogs, she helps at working tests and field trials with the Three Ridings Labrador Club, where she is also a member of their Working Committee.
This year's show will run on the same schedule as last year's companionship dog show, with the same classes for pedigree and novelty classes.  There are separate judges for both sections with rosettes and certificates for First, Second, Third and Reserve available.  Entries are taken on the day, so please make your way round to the Dog Ring where entries will be taken.  Pedigree classes will commence judging at 11:00am with the aim of completing these classes by 13:00  The fun classes will commence at 14:00, so please make sure you remain close by the Dog Ring at these times to be called in for your class.
Our judges for this year are Bernadette Baxter (Bermary) who will be judging the Pedigree classes, and Joyce Hays (Branjoy) who will be judging the Novelty classes.  Both have many years' experience of showing and judging.
SECTION SECRETARY

Joanne Elrod
General
Closing date:
Entries taken in the ring on Show Day.
Entry fee:
£1.00 per class, or 3 classes for £2.50
Sponsors:

Pride and Groom – Zoflora

Thank you to Nicholson Roberts for their generous sponsorship
Information & Guidance
Entries: Entries taken in the ring on Show Day. £1.00 per class or 3 classes for £2.50
Judging: Commences at 11:00 am
Chief Steward: Mrs Jayne Rowland (KC)
Senior Steward: Ms Louise Boaler
Companion: Pedigree
| | |
| --- | --- |
| Judge: | Bernadette Baxter (Bermary) |
| Entry Fee: | £1 per class or 3 for £2.50 |
Classes
1 – Any variety puppy 6-12 months
2 – Any variety junior 6-18 months
3 – Any variety Sporting
4 – Any variety Non-Sporting
5 – Any variety Open
6 – Any variety veteran over 7 years
7 – Junior handling up to 10 years
8 – Junior handling 10 – 18 years
Information & Guidance
Held under Kennel Club Rules and Regulations
Challenge Certificate and Reserve Challenge Certificate holders' novelty classes only
Puppies must be 6 months or over on the day of the show
Dogs must be owned by handler or parents
Companion: Novelty
| | |
| --- | --- |
| Judge: | Joyce Hays (Branjoy) |
| Entry Fee: | £1 per class or 3 for £2.50 |
Classes
9 – Most Handsome Dog
10 – Prettiest Bitch
11 – Best Cross Breed
12 – Waggiest Tail
13 – Dog Judge would like to take home
14 – Best rescue
Information & Guidance
Held under Kennel Club Rules and Regulations
Challenge Certificate and Reserve Challenge Certificate holders' novelty classes only
Puppies must be 6 months or over on the day of the show
Dogs must be owned by handler or parents
Companion Dog Show Schedule
Pedigree Show (Sponsored by Pet Fit Adventures):
Judge: Bernadette Baxter (Bermary)
Judging starts at 11:00am 
| | |
| --- | --- |
| Class | Class Sponsors |
| 1 – Any Variety Puppy 6-12 months | Eager Beever Dog Training |
| 2 – Any Variety Junior 6-18 months | Paws & Pals Dog Day Care |
| 3 – Any Variety Sporting | Do it Yer Sen |
| 4 – Any Variety Non-Sporting | Pride and Groom |
| 5 – Any Variety Open | Lisa Victoria, Artisan Pet Care |
| 6 – Any Variety Veteran over 7 years | Ruperts, Pot House Hamlet |
| 7 – Junior Handling up to 10 years | Eager Beever Dog Training |
| 8 – Junior Handling 10 – 18 years | Pet Fit Adventures |
| Best Puppy in Show | Pet Fit Adventures |
| Best in Show | Pet Fit Adventures |
| Reserve Best in Show | Pet Fit Adventures |
Novelty Show (Sponsored by Howdens):
Judge: Joyce Hays (Branjoy)
Judging starts at 14:00pm                                 Class Sponsors:
| | |
| --- | --- |
| Class | Class Sponsors |
| 9 – Most Handsome Dog | Howdens |
| 10 – Prettiest Bitch | Paws & Pals Dog Day Care |
| 11 – Best Cross Breed | Pride and Groom |
| 12 – Waggiest Tail | Lisa Victoria, Artisan Pet Care |
| 13 – Dog Judge would like to take home | Robert's Butchers |
| 14 – Best rescue | Eager Beever Dog Training |
| Best in Novelty Show | Howdens |