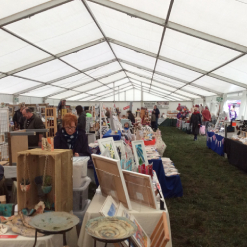 The Craft Marquee provides a showcase for the work of artisans selling decorative or practical objects made by hand. It offers an exhibition space in which mostly local craftspeople can display their own original creative work.
The Marquee provides the most varied and interesting display of original craft ware to be found anywhere in South Yorkshire, and all within the glorious setting of Penistone Show and its beautiful upland scenery. You can expect to find a wide array of unique and unusual arts and crafts products from intricate pieces of jewellery to robust hand thrown pots, striking photographs of the local area, enchanting illustrations and engravings, stone carvings, fossil lamps and automatons made from driftwood.
There will be so much to discover and all of it made with love and passion. The Craft Marquee is THE place to go to find that special item never seen on the high street or in branded stores. If you're looking for that special gift, something out-of-the-ordinary for the home or even for early Christmas presents then the Craft Marquee is certainly worth a visit. Or if you just want to admire exquisite objects made with flare and care, and to talk to their makers about their skills and craft, then pop in just to feast your eyes on the beautiful displays.
CLASS SECRETARIES

Tim and Wendy Booth
Royd Moor Hall Farmhouse
Royd Moor Road
Thurlstone
S36 7RD
South Yorkshire
Please complete this contact form if you would like to enquire about displaying a craft stall at the show